Join a Nation of Heartsavers on June 1-7 for National CPR and AED Awareness Week.
Did you know that 70 percent of out-of-hospital cardiac arrests happen in homes? Statistically speaking, if you are called upon in an emergency, you will most likely be trying to save the life of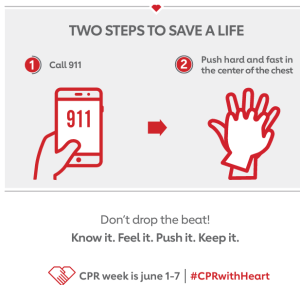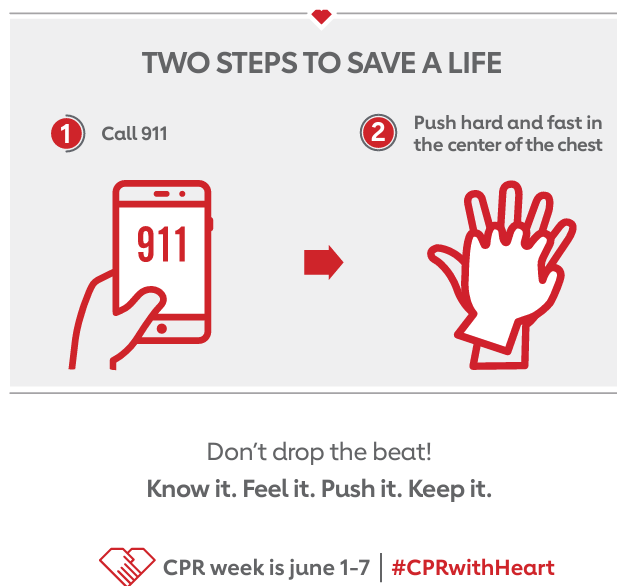 someone you love: a parent, a sibling, or a friend.
CPR increases a person's chance of survival by double or even triple. Consequently, bystanders play an integral part in increasing survival from cardiac arrest. Because of this, we are asking you to please take 90 seconds of your day to learn the lifesaving skills of Hands-Only CPR. We are pleased to support the American Heart Association and its important mission to increase survival from cardiac arrest.
According to the CDC, heart disease is the leading cause of death in the United States, with over 600,000 deaths each year. Promptly and adequately performed CPR can dramatically improve someone's chance of survival. A leading cause of death in children ages 4 and under is drowning. CPR certification for parents and childcare providers can help to decrease the loss of life.
In just 90 seconds, you can learn the two simple steps to Hands-Only CPR. Share these Hands-Only CPR resources with your family, friends, co-workers, and your community.
Please watch the video any day June 1-7. Then, share this important link with family and friends and tag us on your posts on Facebook, (@AHACPR) and Twitter (@HeartCPR) using the hashtag, #CPRWithHeart. We would like 100% student participation.
For more comprehensive training, you can find our CPR, First Aid, AED, and Stop the Bleed training schedule by visiting www.pro-action.org/cpr.
Thank you for joining the next Generation of Heartsavers!
https://www.pro-action.org/wp-content/uploads/2022/06/AHA-CPR-Week-FB-Insta-2.png
788
940
ProAction Admin
https://www.pro-action.org/wp-content/uploads/2021/08/logo.png
ProAction Admin
2022-06-01 10:14:52
2023-08-08 12:52:52
Learn Two Steps to Save a Life with Hands-Only CPR.