STOP THE BLEED TRAINING
ProAction Emergency Services Institute is an official STOP THE BLEED educational licensee. Recent tragedies have truly impacted us as an organization. In the wake of violence in places where people should feel safe, such as schools, churches, and other venues, we are acting decisively to increase access to the skills necessary to save a life. We believe that presenting Stop the Bleed training to high school students is the best way we can make a difference.
We proudly offer free bleeding control classes to El Paso and Las Cruces area non-profit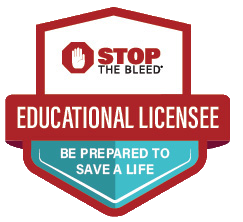 organizations and educational institutions who desire STOP THE BLEED training for their employees, faculty, staff, students, and volunteers. The private industry is also eligible for training for a nominal fee.
The Texas Education Code (TEC), §38.030, as added by House Bill (HB) 496, 86th Texas Legislature, requires training for the use of a bleeding control station in the event of an injury to another person. Stop the Bleed is an approved training.
Students learn different techniques such as how to use a tourniquet, gauze or apply pressure to keep a gunshot wound victim from bleeding out before emergency crews arrive
According to the Department of Homeland Security (DHS), Stop the Bleed is a national awareness campaign and call to action intended to cultivate grassroots efforts that encourage bystanders to become trained, equipped, and empowered to help in a bleeding emergency before professional help arrives.
In order to process your request, please complete the form below and a staff member will reach out to validate your need and schedule a STOP THE BLEED training program.