In an exciting development for sports safety and medical support, ProAction EMS has been announced as the official EMS provider of the UTEP Miners. This partnership between ProAction EMS and the University of Texas at El Paso (UTEP) Athletic Department signifies a commitment to the well-being of student-athletes, coaches, and fans. This blog post explores the significance of this collaboration, the expertise of ProAction EMS, and the positive impact it will have on the UTEP Miners community.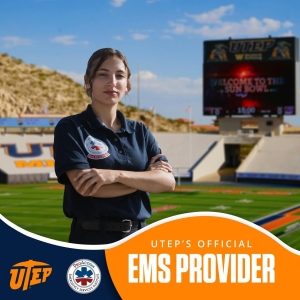 A Commitment to Athlete Safety: ProAction EMS's selection as the official EMS provider for the UTEP Miners highlights the university's dedication to ensuring the safety and well-being of its athletes. By partnering with a trusted and experienced EMS provider, UTEP demonstrates its commitment to providing the best possible care for its student-athletes in both practice and game settings.
Expertise and Experience of ProAction Emergency Services Institute: ProAction EMS brings a wealth of expertise and experience to the partnership. As a leading provider of emergency medical services, they have a proven track record of delivering exceptional care in various settings. Their highly trained and experienced medical professionals will be readily available to provide immediate medical attention and support during UTEP Miners' athletic events.
Timely and Efficient Medical Response: In the world of sports, injuries can occur, ranging from minor incidents to more serious emergencies. Having ProAction EMS as the official EMS provider ensures a prompt and efficient medical response in the event of an injury. Their skilled medical teams will be equipped to handle any situation, offering reassurance to athletes, coaches, and fans alike.
Enhanced Fan Experience: The partnership between ProAction EMS and the UTEP Miners is not only about athlete safety but also about enhancing the overall fan experience. With professional medical support readily available, fans can enjoy the games with peace of mind, knowing that expert care is just a call away. This collaboration demonstrates UTEP's commitment to creating a safe and enjoyable environment for everyone attending sporting events.
Education and Training Opportunities: In addition to providing emergency medical services, ProAction EMS can collaborate with UTEP to offer educational programs and training opportunities. This partnership can include initiatives such as CPR training for coaches, athletes, and staff, raising awareness about sports-related injuries, and promoting general health and wellness within the UTEP Miners community.
The selection of ProAction EMS as the official EMS provider of the UTEP Miners marks an important step in prioritizing athlete safety and well-being. This partnership ensures that the UTEP Miners community will have access to professional and immediate medical support during athletic events. The collaboration also presents opportunities for educational initiatives and further promoting health and wellness within the university. With ProAction EMS's expertise and commitment to excellence, the UTEP Miners and their fans can look forward to a safer and more enjoyable sports experience.
https://www.pro-action.org/wp-content/uploads/2023/06/PA-UTEP-FBCOVER-820X312.png
312
820
ProAction Admin
https://www.pro-action.org/wp-content/uploads/2021/08/logo.png
ProAction Admin
2022-08-30 13:00:51
2023-08-08 12:44:33
ProAction EMS Becomes the Official EMS Provider of the UTEP Miners