In the bustling world of professional sports, ensuring the safety and well-being of athletes and spectators alike is of paramount importance. When it comes to the El Paso Chihuahuas, the official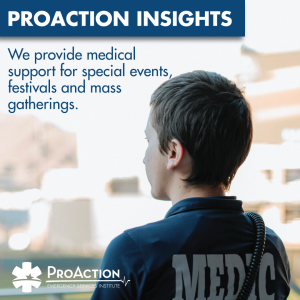 Triple-A affiliate of the San Diego Padres, one name stands out as the trusted provider of emergency medical services (EMS): ProAction EMS.
ProAction Emergency Services Institute has built a solid reputation as a leading provider of comprehensive EMS services, prioritizing excellence, professionalism, and reliability. Our partnership with the El Paso Chihuahuas is a testament to our commitment to ensuring the safety and health of players, coaching staff, and fans attending the games.
ProAction EMS boasts a highly skilled and experienced team of certified emergency medical technicians (EMTs) and paramedics who are adept at handling a wide range of medical emergencies. Their personnel undergo rigorous training and are equipped with the latest medical technologies and equipment to provide prompt and efficient care during games and events.
ProAction EMS maintains a strong presence at Southwest University Park, the home stadium of the El Paso Chihuahuas. With strategically located medical stations and personnel, our response time is swift, ensuring that any medical incidents are addressed promptly and efficiently. ProAction EMS professionals are trained to handle a diverse range of situations, from minor injuries to critical medical emergencies.
Beyond our role as the official EMS provider, ProAction EMS actively engages with the El Paso community. We conduct CPR and first aid training sessions, provide health and safety education, and participate in local initiatives to promote wellness and emergency preparedness.
As the official EMS provider of the El Paso Chihuahuas, ProAction Event Medical Services plays a crucial role in ensuring the well-being of players, staff, and fans. With our commitment to excellence, experienced team, rapid response capabilities, and community engagement, ProAction EMS is an indispensable partner in the success of the Chihuahuas and the safety of everyone involved.
https://www.pro-action.org/wp-content/uploads/2023/06/338164307_1233888450574199_5221935479923462174_n.jpg
1080
1080
ProAction Admin
https://www.pro-action.org/wp-content/uploads/2021/08/logo.png
ProAction Admin
2023-06-14 12:10:58
2023-08-08 12:49:52
ProAction EMS: The Trusted EMS Provider for the El Paso Chihuahuas